Up in the air and down on the ground with Clare: a year-round empowering aerial yoga and well-being program for children.
CLASSES
Tue
17:50 – 18:40
Teen Fly Yoga

(10-15 year-olds)

Book
Fri
16:15 – 17:00
Kids Fly Yoga

(6-9 year-olds)

Book
Classes follow the Vaud school term and holidays.
Extra classes will be added to break down further age ranges if required.
Why should I pick Kids Fly Yoga for my child's after school activity?
Aerial yoga is a type of yoga that involves performing various poses and stretches while FLYING in the air using a hammock.
Improves core strength and flexibility: Aerial yoga involves using the hammock to support and assist with various yoga poses, which helps to develop core strength and improve flexibility.
Enhances balance and coordination: Aerial yoga requires a great deal of balance and coordination, which can help children develop these skills.
Increases body awareness: Because aerial yoga is performed while suspended in the air, it requires children to pay attention to their bodies and how they move in space, which can increase body awareness.
Builds confidence: Aerial yoga can be challenging, but as children overcome these challenges, they can build confidence in themselves and their abilities.
Provides a fun and unique experience: Aerial yoga is an exciting and different way for children to practice yoga, which can make it more enjoyable for them.
Aerial yoga is a fun and beneficial way for children to stay active and improve their physical and mental health.
What is the well-being part other than the aerial yoga?
Each class starts on the ground in a circle so we can learn to share, learn a well-being technique for life, and ground ourselves before we fly. As a qualified yoga mat teacher as well as aerial teacher and a Sophrologist (Sophrology is a relaxation technique that integrates breathing exercises, visualization, and meditation), I combine my expert knowledge for your children and teens.
Why with Clare?
Clare has the knowledge and expertise to design and deliver a holistic program for children that combines the benefits of sophrology and yoga. She is a certified yoga teacher and sophrologist (therapist with ASCA), has additional training for working with children, is a TEDx speaker for Yoga and Sophrology for Children, and has worked in various schools and owned her own yoga studio since 2019.
Clare can tailor her approach to the specific needs of your child. She understands that each child is unique and requires a personalized approach to ensure their well-being.
Clare's program focuses on the mind-body connection, which is essential for optimal health and well-being. She understands the importance of developing healthy habits at a young age to promote lifelong wellness.
Through her program, Clare can support children develop tools to manage stress and anxiety. This can help improve their mental health, mood, and overall quality of life.
Clare's program is designed to be fun and engaging for children. She incorporates play and imagination into her classes, which can help children build confidence, enhance creativity, and improve focus and concentration.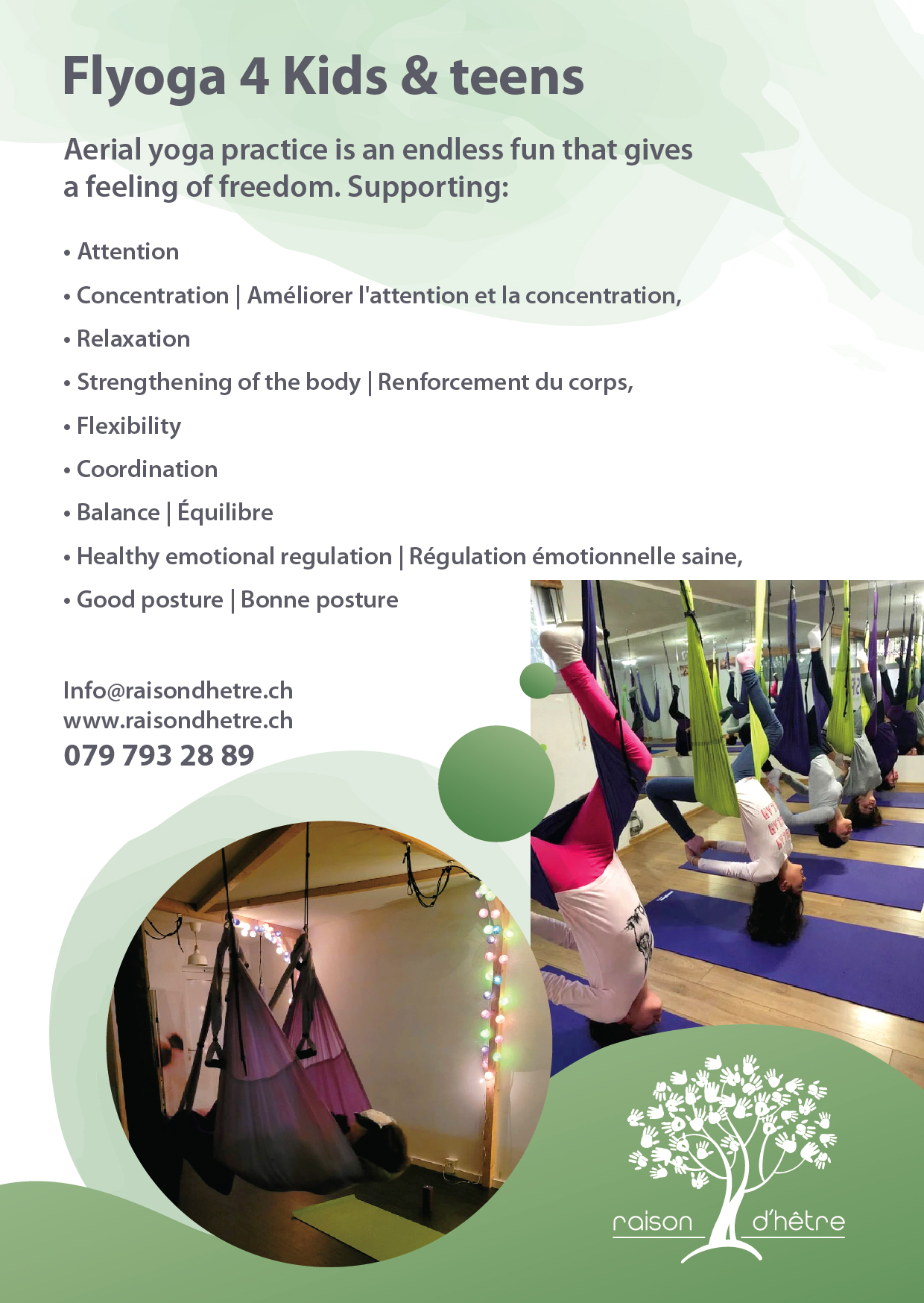 Cost
The cost of CHF 1'140 is a year-round price debited per month for 10 months (CHF 100/month), with an initial non-refundable sign-up fee of CHF 140. This is the only payment option available for this program. If someone is having financial difficulty and wants their child to join the program please do still reach out to us privately by email info@raisondhetre.ch. The intention must be to join for the year because the program builds one week to the next and takes time but it is possible to cancel with 2 weeks notice. No refund or replacement is offered if your child does not come to class as one hammock is reserved per child and small classes are adhered to.
Book Online Now